Arrogant instant flavoured tea with sugar.
Arrogant uses high quality products- including the natural sugar in every individual package.
The flavors you can choose are raspberry fruit tea or black tea. And they both have the delicate taste of every Arrogant product.
Arrogant instant tea is offered in 16gr pack.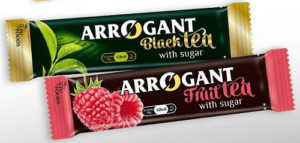 Logistic information:
40 pcs in displaybox
10 display boxes in carton,
72 cartons on euro pallet
Display boxes